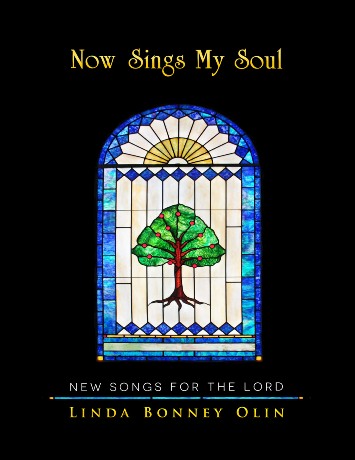 If any single project could sum up my collaboration with my Holy GhostWriter, it would be Now Sings My Soul: New Songs for the Lord. Without our creative partnership, none of these songs would have been conceived, let alone brought into the world.
Admittedly, the labor pains got pretty intense at times.
More than a hundred of my hymns and faith songs were selected and polished. And polished some more.
The interior layout was designed for an 8.5″ x 11″ print book: fonts, sizes, pagination, headers, footers, sections, title pages, art, etc.
Lyrics were laid out in stanza format on individual pages, along with suggested themes and scripture references for every song—a monster task in itself.
Many thanks to my posse of Bible-loving helpers who contributed scripture suggestions, especially Lisa Kesinger DeVinney, Ann Marin Frizzell, Vi Gommer, and Angela Davis.
The musical settings were tweaked and formatted as book pages in a consistent style, with headers and footers and mirror margins.
(Many thanks to the developers and community of MuseScore, the free, open source music notation program I use to engrave scores.)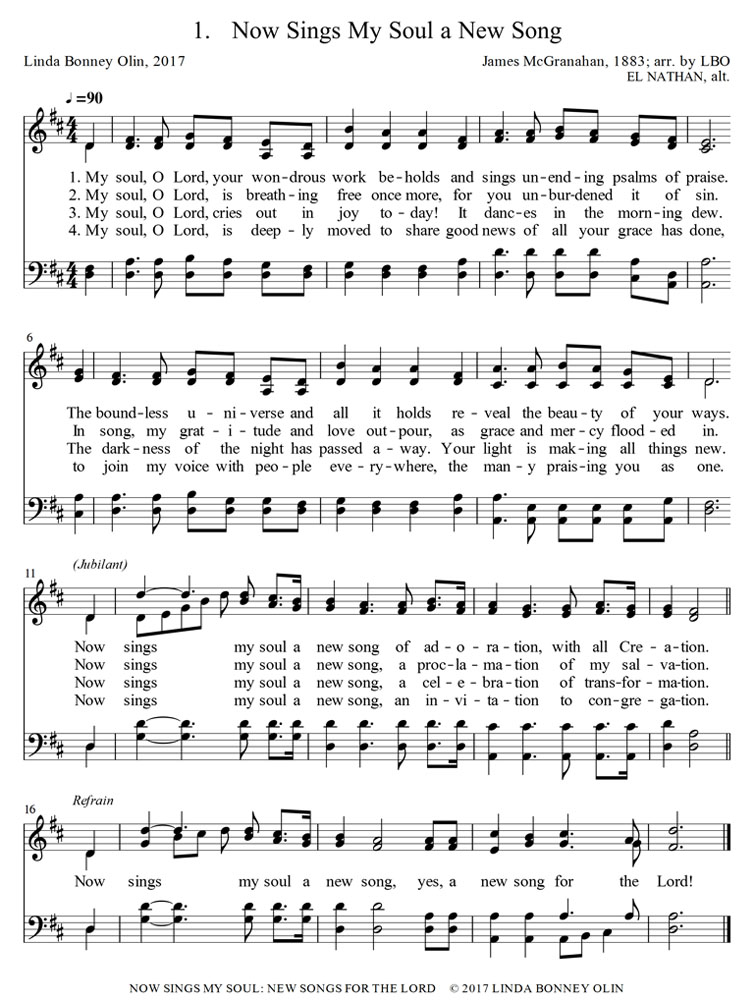 (Click on the image to download the PDF score. Click here to listen to my arrangement of the tune. If the mp3 doesn't load fast enough on your device, try the midi file on the Now Sings My Soul~Audio page.)
Songs were sequenced so that closely related songs would be displayed on facing text pages and two-page scores would be displayed on facing pages to eliminate mid-song page turns. Every time songs were reshuffled, the scores had to be renumbered and margins adjusted for odd/even page location.
Five indexes were designed and formatted and built. Multiple times.
(I may write a separate blog post to share my hard-won experience with other writers who want to know how to add a scripture index to a Word manuscript.)
All the pages were fine-tuned for consistent layout, printed to PDF files, assembled into a single interior PDF file, and submitted to CreateSpace (the printer for my indie books) for trial processing. Multiple times.
(How to convert music scores to PDF for CreateSpace without either your music notation or yourself going buggy may be the subject of another what-I-learned-the-hard-way post.)
The book cover was designed, tweaked, sized, given a bar code with the book's ISBN and price embedded, and submitted as a PDF file to CreateSpace for trial processing. Also multiple times.
Many thanks to Nel Bernard of Centrepole Art Glass Studio, who graciously gave permission to modify a photo of his beautiful Tree of Life stained glass window in Bradbury Chapel, Canton, Maine (below) for my cover image. Thanks also to Steve at Bookow.com, who creates price-embedded barcodes for book covers at no charge for indie authors like me.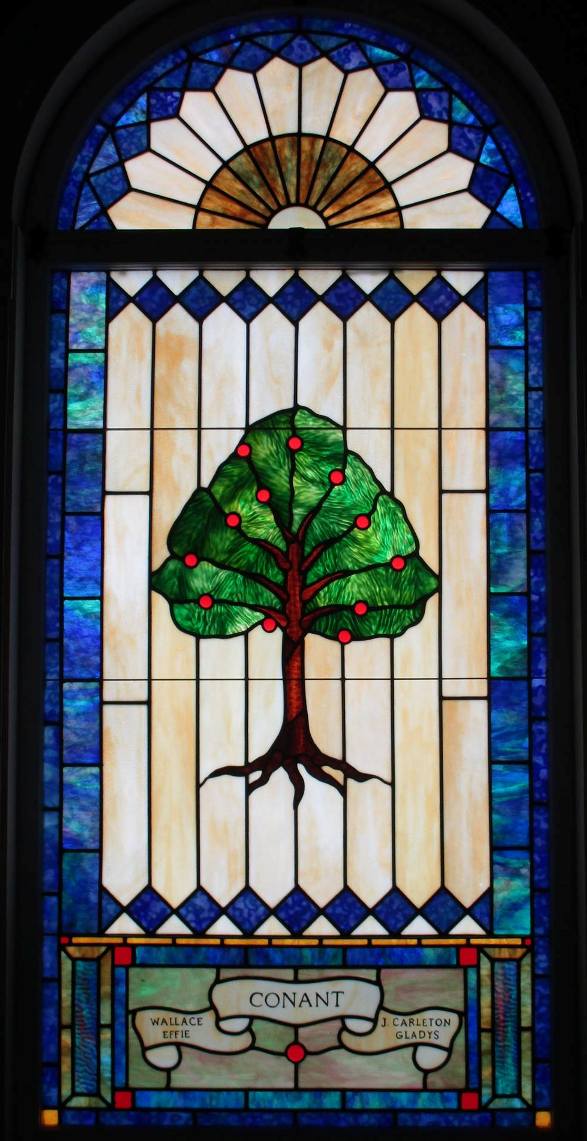 The interior and cover were modified for a Musicians Edition, which omits the text-only lyrics section.
The interior, cover, and indexes were completely revamped for a 5.5″ x 8.5″ Readers Edition, which contains the lyrics section but no scores.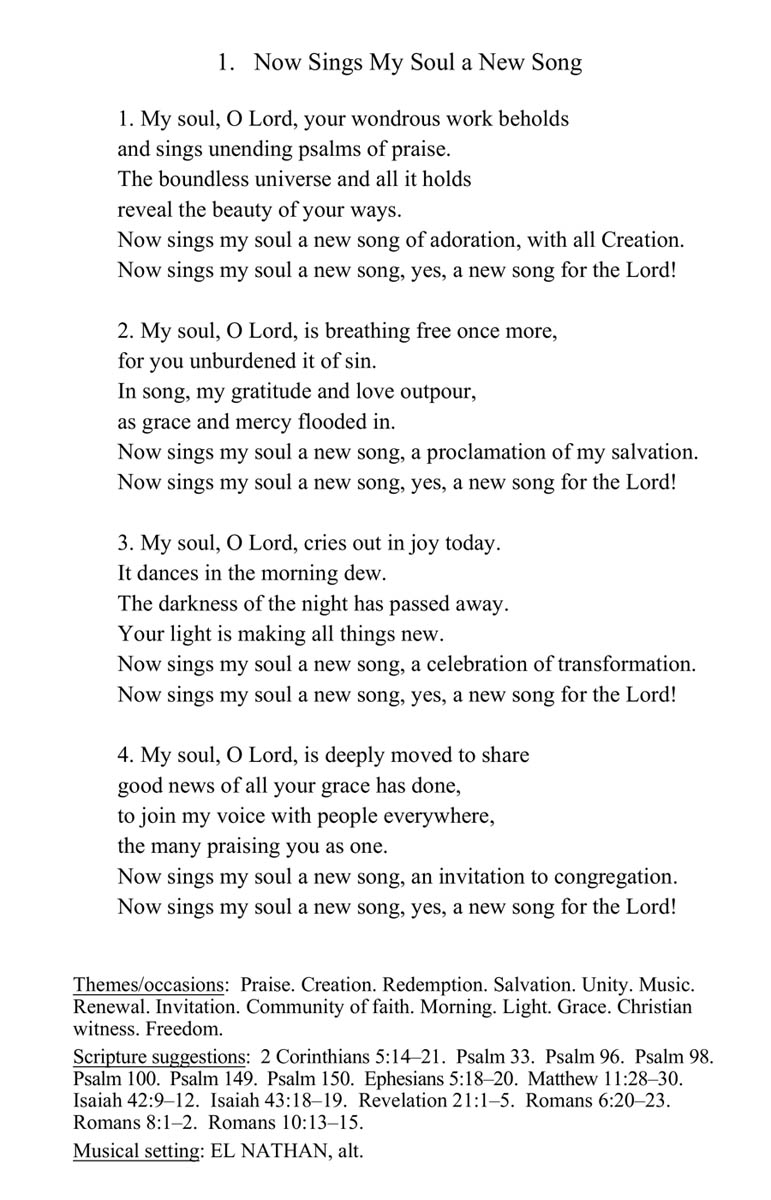 (Click on the image to download a PDF of this page from the Readers Edition.)
The Readers Edition was reformatted from scratch for a Kindle ebook version.
Book files for all the editions and versions were submitted for review, and tweaked, and resubmitted some more, until I was satisfied that I had done the best I could.
More than 250 audio files were generated in MuseScore and linked to the book's audio page here on Faith Songs.
And that's on top of writing all those hymn texts and song lyrics (plus a few of the tunes) in the first place!
Finally, the gestation period was over.
After some two years of work on the project, a sample of the paper-and-ink book was delivered. All the travails, all the months of anxious anticipation were eclipsed by excitement and a sense of accomplishment when I held my pride and joy in my hands. Three editions—triplets!
Yes, more work lies ahead. But it was a moment of sheer grace to see the tangible proof: Once again, the Lord has kept his promises.
I hope the same joy and grace will fill everyone who joins me in singing new songs for the Lord.
Blessings,
Linda
______________
Book details
Buy on Amazon:
Full Edition
Musicians Edition
Readers Edition (paperback)
Readers Edition (Kindle)