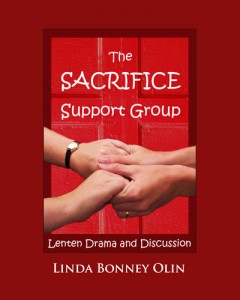 12/2/2013: Please note that some publication information in this article is obsolete. See the post dated December 1, 2013, for current titles, contents, and links. – Linda
Home at last! After a six-week sojourn in a house without high-speed Internet service, I finally can post the latest news.
Today The Sacrifice Support Group: Lenten Drama and Discussion made its début in an 8"x10" paperback edition. This large format makes reproducing pages easy and economical. A church or small group can buy a single book and give photocopies of the dramatic comedy script to the cast and photocopies of the handouts to the discussion participants. A bargain, right?
A month after Easter may seem like an odd time to launch a Lent-themed book, but I wanted to experience print-on-demand (POD) publishing firsthand before teaching a couple of related workshops at Montrose Christian Writers Conference in July. I had published the Kindle edition of The Sacrifice Support Group in February, so that material was a handy choice for my first POD venture.
I'm a do-it-yourself kind of gal, so I designed the book cover and interior pages myself and uploaded the files to CreateSpace, Amazon's POD division. The only up-front expenses were ten dollars for an ISBN (a book's unique identifying number) registered in my own name as publisher and about seven dollars to have a proof copy of the finished book mailed to me.
Of course, the do-it-yourself method costs time, if not money. I had to adapt the ebook cover to the print edition's dimensions and add a back cover displaying the requisite back cover stuff. CreateSpace furnished a Microsoft Word template for the interior layout, which needed a lot of customization for this project. Luckily, I found online resources that explained display and text fonts, page numbers, running heads, and other print book elements that I hadn't had to contend with when formatting ebooks. The most helpful site was Joel Friedlander's www.TheBookDesigner.com, a mother lode of book design instruction and all sorts of advice for indie authors.
This afternoon I clicked the final button. Voilà! The Sacrifice Support Group instantly went on sale in the CreateSpace online store. Individual books will be printed when they are purchased—in other words, printed on demand. Within a few days Amazon.com and other online book retailers should list it, too.
In spite of the time spent and the steep learning curve, I had fun building a POD paperback. I hope that the finished product reflects my desire to place helpful content into a polished, functional, affordable book.