Faith Songs for People Where They Are
Shepherds and lambs … lakes and rivers … bountiful harvests of golden wheat … crowded sidewalks and grungy alleys—Wait a minute! When was the last time you sang about those in church?
Probably never. Yet city pavements, not rural pastures, are the everyday surroundings of millions of Christians.
Rev. Dr. Nancy E. Hardy, a retired minister and a city resident herself, saw that the urban viewpoint was severely underrepresented in existing hymnals. Supported by the 2013 McGeachy Senior Scholarship, Nancy launched a quest to fill that void. She wrote prayers and selected songs whose themes and imagery resonate with city dwellers.
The resulting book, Worship in the City: Prayers and Songs for Urban Settings, was just released by United Church Publishing House. Although this hymnal was published for the United Church of Canada, urban congregations of any denomination will find it a rich resource for public and private worship.
You can check out the paperback edition at United Church Resource Distribution or the ebook edition at Amazon and other online retailers.
A Faith Songs Milestone
I'm celebrating Worship in the City for a personal reason, too. It's the first appearance of my work in a church hymnal. What an exciting milestone! One more evidence that the Lord keeps his promises.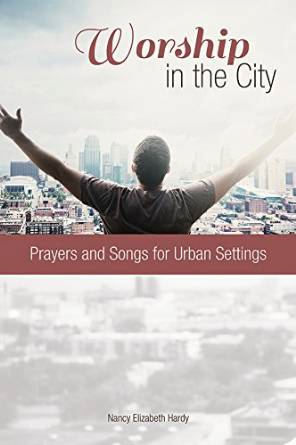 New hymnals aren't produced every five minutes like novels, anthologies, or magazines, so opportunities to submit new hymn texts for publication in a hymnal are few and far between. When Nancy Hardy's project was mentioned last year in The Verse (the newsletter of the Hymn Society in the United States & Canada), submitting a text for her consideration went right onto my to-do list.
Unfortunately, not one of the dozens of hymn texts I'd already written featured an urban theme. I challenged myself to create one. Although I'm a country gal, my visits to metropolitan areas from Houston to Boston, including Toronto, Philly, and of course the Big Apple, furnished memories to work from. "Jesus Walks on City Streets" became a four-verse meditation on living as a member of the community of faith in a city environment. Louis J. Herold's tune MESSIAH (familiar as the tune of "Take My Life, and Let It Be") provided the musical setting, with a few timing tweaks to make my lyrics more singable. To my delight, "Jesus Walks on City Streets" was placed in the Hope and Healing section of Worship in the City.
I love being inspired to write a new hymn to meet a particular need. Can you suggest a hymn or faith song that begs to be written? Please share your ideas in a comment below. Or just stop and say hi. I love that too!
~ Linda