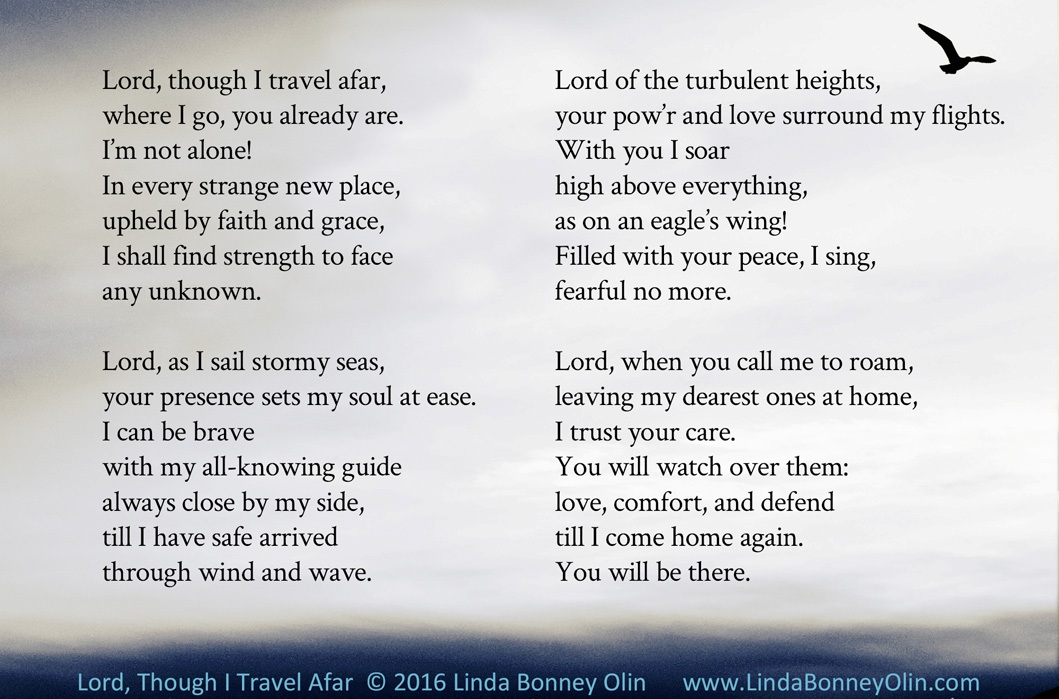 The Lord's arms stretch wide enough to hold you close—you and the dear ones you had to leave behind—no matter how many miles or months separate you.
You have no family or friends eagerly waiting to welcome you home from deployment? Remember, you and the Lord are always a family of two. Everywhere you go, the Lord is there.
Please share the picture on social media and give a copy of "Lord, Though I Travel Afar" to someone you know who is away from home on military duty or missionary assignment. Let's send our love and prayer support to all the men and women who are making such a sacrifice to help secure freedom from oppression around the world.
Blessings,
Linda
P.S. As you may have guessed, "Lord, Though I Travel Afar" is a prayer set to music. The tune I chose is ITALIAN HYMN.  MIDI      MP3
I hope you enjoy singing it as well as praying the words, especially the distinctive four-note phrase that boldly proclaims the third line of each stanza. That's my favorite part!
Lord, Though I Travel Afar

Lord, though I travel afar,
where I go, you already are.
I'm not alone!
In every strange new place,
upheld by faith and grace,
I shall find strength to face
any unknown.

Lord, as I sail stormy seas,
your presence sets my soul at ease.
I can be brave
with my all-knowing guide
always close by my side,
till I have safe arrived
through wind and wave.

Lord of the turbulent heights,
your pow'r and love surround my flights.
With you I soar
high above everything,
as on an eagle's wing!
Filled with your peace, I sing,
fearful no more.

Lord, when you call me to roam,
leaving my dearest ones at home,
I trust your care.
You will watch over them:
love, comfort, and defend
till I come home again.
You will be there.

—Linda Bonney Olin
© 2016 Linda Bonney Olin