Draw close to the cross. Draw closer to Jesus.
Explore Calvary through the eyes of people who were there when Jesus Christ was arrested and nailed to a Roman cross. Who were they? What did they see, and hear, and feel? What did they do? What can their experiences teach us?
Were You There When They Crucified Our Lord? Meditations on Calvary reads between the lines of scripture, delving into those questions with six chapters of:
scripture readings;
insightful meditations;
powerful new songs;
thought-provoking discussion questions;
opening and closing prayers.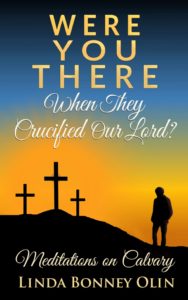 The book is available in paperback and Kindle editions.
Musicians might prefer the facing-page layout of music scores in the paperback version.
Study leaders who use projection screens might appreciate the convenience and accuracy of copy-and-pasting lyrics from the ebook version into PowerPoint.
Every chapter includes at least one song with new lyrics set to existing tunes. Don't have an accompanist handy? Go to the Were You There Audio page and download the instrumental audio files to sing along with. You'll also find rehearsal tracks for the solo and duet songs, plus a few live recordings.
Printable handouts of the interactive scripture reading and discussion questions can be downloaded on the Resources page.
Serving Suggestions
A series of after-dinner programs presented by a study leader and music team. This can easily be done in any size church. Simply choose the music options that suit your available resources and preferences.
For example, the material for Were You There When They Crucified Our Lord? Meditations on Calvary originated with a weekly Lenten soup-and-study series hosted by my local churches, which are small congregations. I presented the meditations and led the scripture readings, discussions, and group songs. Three musically inclined church members presented the Marys' duet and two solo songs.
A small group Bible study
Private devotional reading. The paperback and Kindle editions both include the song lyrics in text format for easy reading on your own. If the spirit moves, go ahead and sing all the songs solo!
Music. Most of the songs written for this study are suitable for use in inspirational programs and worship services, especially during Holy Week.
Editorial Review
Olin's book, a collection of Scripture readings, meditations, discussion questions, and prayers, arose from weekly Lenten soup-and-study presentations for her local churches. But it also works for individual devotional reading and small group studies.
A highlight of this book is how Olin includes original lyrics to musical scores of traditional, sometimes little known, hymns, English tunes, and African American spirituals. (The reader may recognize the tunes of William Bradbury's "The Solid Rock" and Philip P. Bliss's "Light of the World" along with "Come Ye Thankful People Come.") With Olin's new words the old songs are fresh and immediate. Each devotion references a musical selection so participants can sing. (I would have preferred an index for easier reference.)
A nice touch is the availability of the songs as mp3 files on Olin's website.
This book serves as an introduction to a wider vision of ministry to the Lord and His people. It's a worthy effort by a devoted daughter of God.
—Time of Singing, Fall 2017
Snippets from Amazon Customer Reviews
"Beautifully and sensitively written. Ms. Olin has clearly researched her material and her text is thought provoking."
"I was intrigued by the concept of using the witness of various people who were there. The music, the musings, and the prayers make this latest offering by Olin a must have for people who appreciate a moving devotional."
"I can't wait to talk to the pastor and his team at my church about the book."
"An opportunity to reflect on our place in the crowd at Calvary"
Order your copies of Were You There When They Crucified Our Lord? Meditations on Calvary at:
Amazon (paperback)
Amazon (Kindle)