Now Sings My Soul: New Songs for the Lord offers more than a hundred original texts (AKA lyrics). Some are set to my own compositions, most to classic hymn tunes.
I don't claim to write highbrow works of sacred music or literature. My work simply seeks a place among the hymns and faith songs people find meaningful and love to sing.
Songs in this collection will help our souls sing wherever we may be, right now, on our walk with the Lord. Perhaps now we sing for joy; perhaps now we mourn our losses and lament our circumstances. We confess our failings; we thank God for our salvation. We sing praises, proclaiming our confidence in God's power and goodness and love. Even when that confidence wavers, we can raise our questions to the Lord in songs as heartfelt as David's psalms.
Choose the edition that suits the way you'll use the book.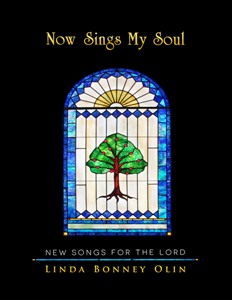 Full Edition (8.5″ x 11″ paperback, 300 pp.) contains three sections:
Lyrics in text-only stanza format for easy reading by devo­tional readers and worship planners. Each song's page has a list of suggested themes and occasions for using it in worship, plus a selection of Bible verses for study and meditation.
Complete scores for all the musical settings in large, readable font. The pages are laid out so that only one of the 120+ scores requires a mid-song page flip. See a sample page, below.
Detailed indexes. The scripture and theme indexes will be helpful for worship and program planners and devotional readers. Alphabetical indexes of song titles, tune names, and composers also are provided.
Musicians Edition (8.5″ x 11″ paperback, 180 pp.) contains all the music scores and indexes. It does not include the text-only section.
(Click on the image to download the PDF score. Click here to listen to my arrangement of the tune. If the mp3 loads too slowly for your device, try the midi file on the Now Sings My Soul~Audio page.)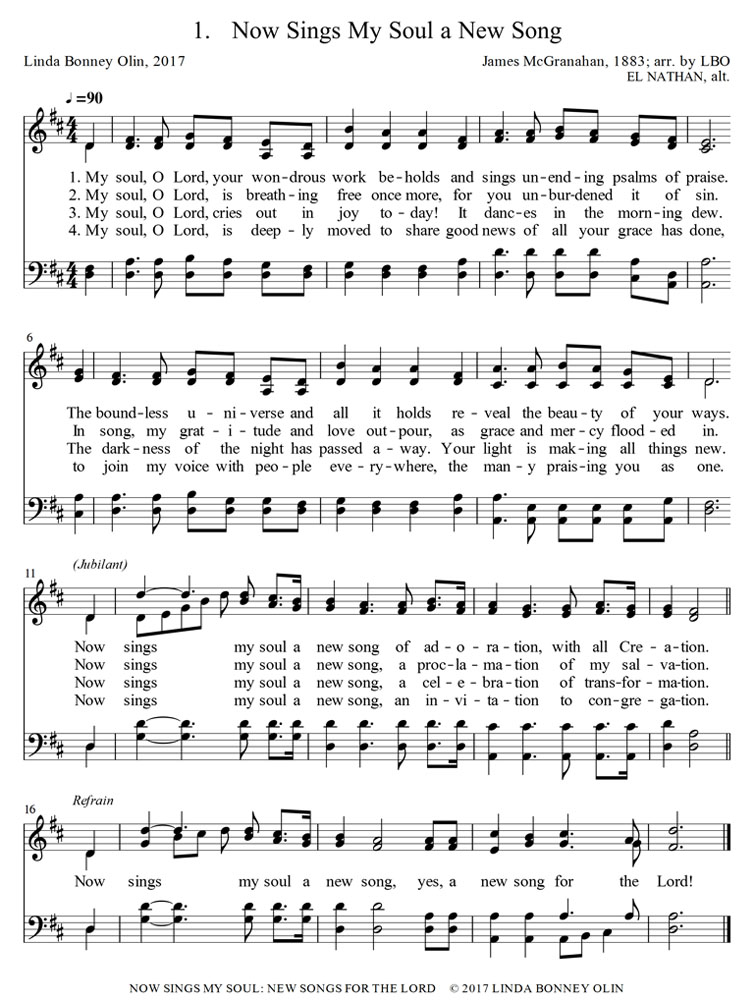 Readers Edition (5.5″ x 8.5″ paperback, 180 pp.) contains the text-only lyrics section plus the scripture, theme, and title indexes. It does not include the music scores.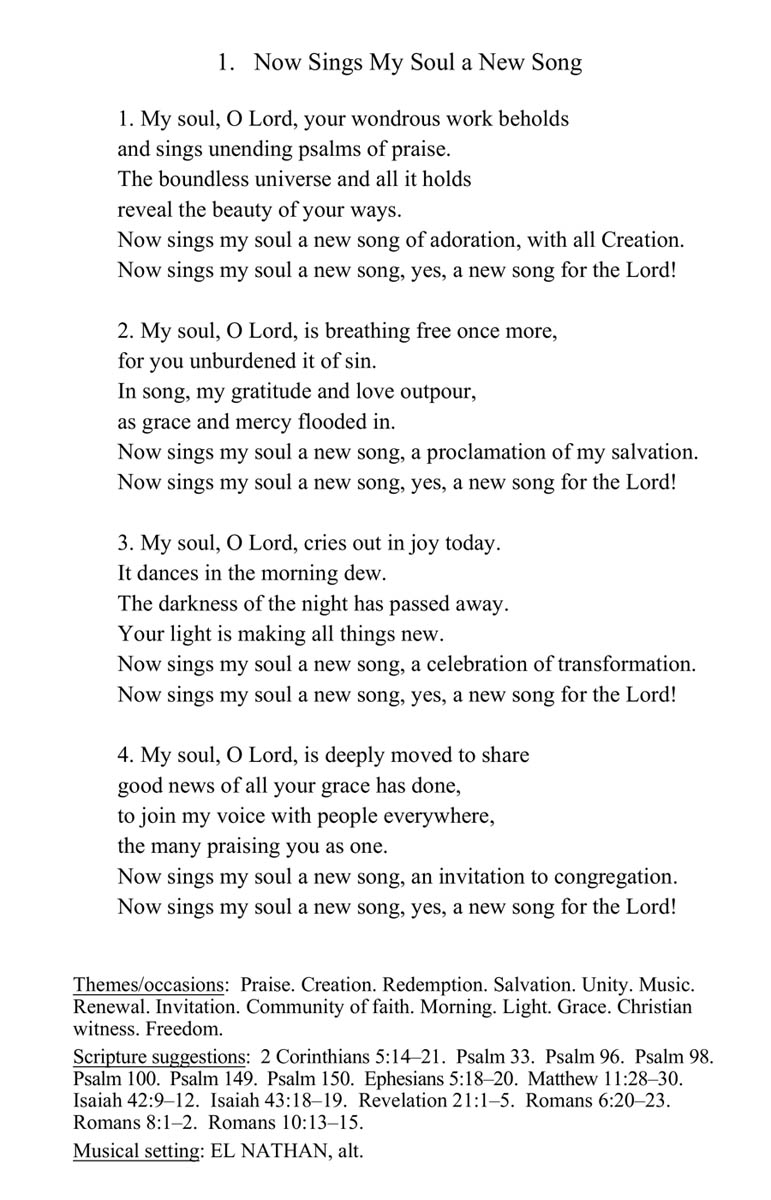 The Readers Edition also is available as a Kindle ebook.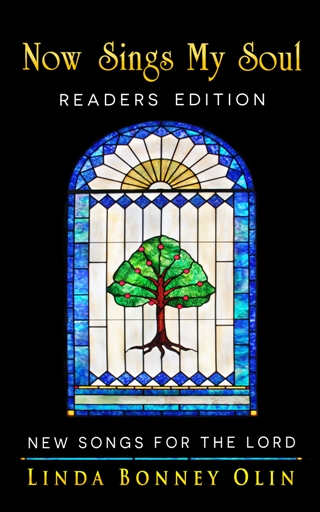 Remember, you can read Kindle books on a variety of devices with the free Kindle app. Click on the "Read on Any Device" box beneath the cover picture on the Amazon book page for details.
Serving suggestions:
To keep the price low, the print editions are being published with a standard paperback binding. Musicians may wish to disassemble the pages to photocopy the scores (complying with the terms stated on the copyright page, of course) or to put them in a binder that will lie flat on a music stand. The inside margins are purposely wide, to accommodate holes for a three-ring binder. Printing services such as Staples and Kinko's can retrofit the books with a spiral binding, if that is your preference.
A few of the tunes in this collection will be new to everyone. And familiar hymn tunes may have been altered a bit to suit my texts. (For example, SPARROW and DIADEMATA begin with a new pickup note.) To help you appreciate my texts in their natural habitat, I invite you to listen to my version of the tunes as you view the words. They're all posted on the Now Sings My Soul~Audio page.
Additional resources for using the book will be posted here on Faith Songs as I go along. If your soloist needs a song in a different key, please contact me to request a PDF score for that key.
Editorial Reviews
"Comprehensive. Ambitious. Far reaching. Now Sings My Soul, Linda Bonney Olin's latest worship music project, reveals the fruits of a 'creative partnership' with the Holy Spirit. Linda embraces the complete range of Christian experience through her lyrics. She introduces traditional and fresh, self-penned melodies to new generations of worshippers. But most of all, Linda's heart for worship shows us how we, too, can deepen our devotion to Jesus Christ."
—Lora H. Zill, Editor Time of Singing   thebluecollarartist.com
"I recommend Now Sings My Soul for Christians looking for new ways to expand their personal worship. It has already earned a spot as part of my own devotional times. The words of Olin's songs resonate with my life and my spirit. Olin's understanding of Scripture plus her love of worshiping through the written word result in a book of hymns that can be enjoyed as poetry for those who are not musically inclined. The Themes and Occasions index and the Scripture index make it easy to find lyrics that relate to the seasons and to my daily Bible reading. The books also include permission to project lyrics and photocopy scores for choir and congregational worship (with inclusion of the copyright information, of course)."
—Vie Herlocker, Editor, Sonfire Media and Cornerstone-Ink
Snippets from Amazon Customer Reviews
"THIS is the 'new hymnal' all churches should have"
"Inviting, Inspiring, Innovative. This new collection by the talented Linda Bonney Olin marries fresh new hymn lyrics with beloved classic much-loved melodies."
"Not saccharine ditties but serious hymns addressing serious issues in a serious way, very practical and down to earth"
"Beautiful collection of unusual hymns with scriptural links"
"Soul-stirring and heartfelt"
"Beautiful songs not only for singing but inspirational and meditation!"
"Beautiful poetry makes the hymns new & exciting – scripture backed"
"This book is awesome. I loved the song texts."
Let's hear from you!
When your church uses one of my songs in worship, or if you are touched by simply reading the lyrics, please take a moment to let me know, in a reply below or a private message or on Facebook or Twitter (@LindaBonneyOlin). Your encouraging comments truly make my day. A selfie or video of your church choir would make my week!
And a glowing review on Amazon might make my whole month! ♥
If you agree that these songs should get out into the world to be read and sung, please help make it happen by spreading the word, any way you can. Thank you!
Blessings,
Linda