Now Sings My Soul: New Songs for the Lord offers more than a hundred original texts (AKA lyrics). Some are set to my own compositions, most to classic hymn tunes. They don't claim to be highbrow works of sacred music or literature. They simply seek a place among the hymns and faith songs people find meaningful and love to sing.
Songs in this collection help our souls sing wherever we may be, right now, on our walk with the Lord. Sometimes we sing for joy; sometimes we mourn our losses and lament our circumstances. We confess our failings; we thank God for our salvation. We sing praises, proclaiming our confidence in God's power and goodness and love. Even when that confidence wavers, we can raise our questions to the Lord in songs as heartfelt as David's psalms.
Choose the edition that suits the way you'll use the book.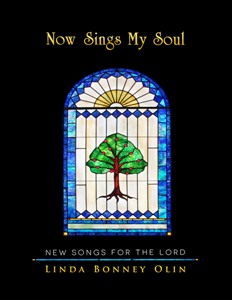 Full edition (8.5″ x 11″ paperback, 300 pp.) contains three sections:
Lyrics in text-only stanza format for easy reading by devo­tional readers and worship planners. Each song's text page has a list of suggested themes and occasions for using it in worship, plus a selection of Bible verses for study and meditation.
Complete scores for all the musical settings in large, readable font. The pages are laid out so that only one of the 120+ scores requires a mid-song page flip.
Detailed indexes. The scripture and theme indexes will be helpful for worship and program planners and devotional readers. Alphabetical indexes of song titles, tune names, and composers also are provided.
Musicians Edition (8.5″ x 11″ paperback, 180 pp.) contains all the music scores and indexes. It does not include the text-only section.
Readers Edition (5.5″ x 8.5″ paperback, 180 pp.; Kindle ebook) contains the text-only section plus the scripture, theme, and title indexes. It does not include the music scores.
Coming soon to Amazon:
Now Sings My Soul: New Songs for the Lord  (paperback)
Now Sings My Soul—Musicians Edition: New Songs for the Lord  (paperback)
Now Sings My Soul—Readers Edition: New Songs for the Lord  (paperback)  (Kindle)
To keep the price low, the print editions are being published with a standard paperback binding. Musicians may wish to disassemble it and place the scores into a folder for easy photocopying (complying with the terms stated on the copyright page, of course) or into a binder that will lie flat on a music stand. The inside margins are purposely wide, to accommodate holes for a three-ring binder. I've heard that printing services such as Kinko's can retrofit a spiral binding, if that is your preference.
A few of the tunes in this collection will be new to everyone. And familiar hymn tunes may have been altered a bit to suit my texts. (For example, SPARROW and DIADEMATA begin with a new pickup note.) So I invite you to listen to my version of the tunes as you view the words. They're all posted on the Now Sings My Soul~Audio page.
It is my heart's desire that these new songs for the Lord be sung far and wide. If you use one in worship or if you are touched by simply reading the lyrics, please take a moment to let me know. Your encouraging comments truly make my day!
Blessings,
Linda