Thanksgiving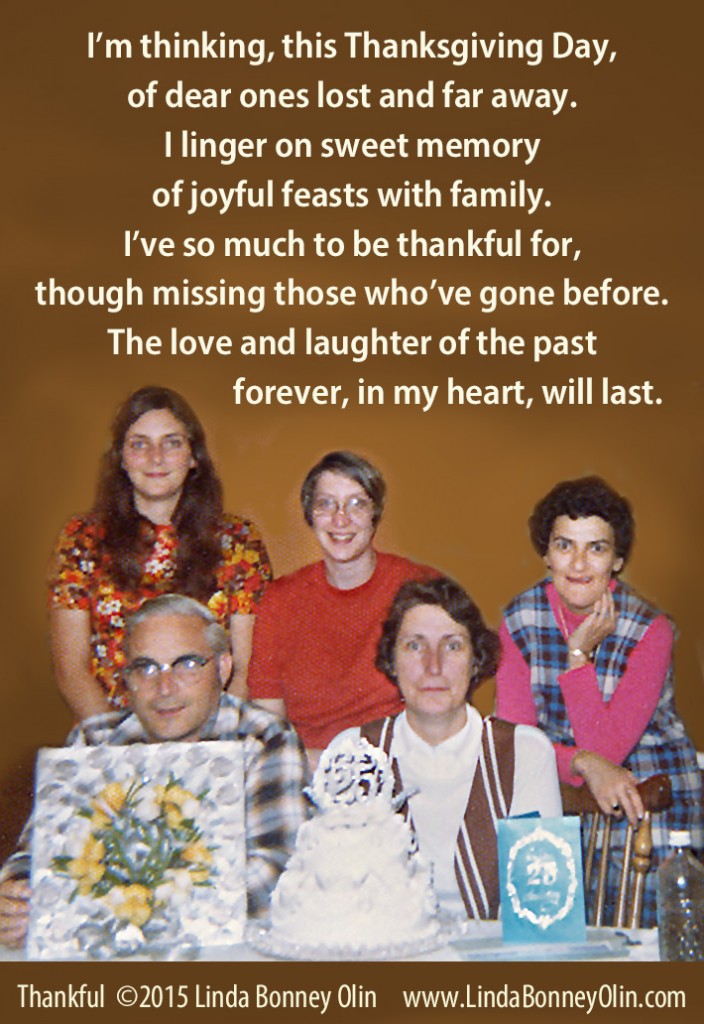 This is a special time of gratitude for blessings past, present, and sure to come. Thank you, dear family, friends, and fans for being the tremendous blessings you are! Thank you, Lord, for making all blessings possible!
This family photo was taken at my parents' 25th anniversary party. My sister, Marie, passed away less than two months later. We've since lost Ma, Dad, and Aunt Annette too. But they all loved to have a good time with family, so lots of love and laughter echo through the years.
Words for a new song I titled "Thankful" were rolling through my head as I woke up this morning. That's verse 1 in the picture. If you feel like singing, you can listen to the tune at hymnary.org. (HE LEADETH ME)
Harvest season on our farm is coming to a close. If the weather, equipment, and husband hold out, all the corn should be combined within a week or so.
Deer hunting season is on. Mostly that means I don't go out walking around on our fields, even in my neon pink vest. You never know when some yobbo might have an attack of buck fever (or Bud fever) and decide to bag that purty pink deer for his girlfriend!
The Christmas season has been in full swing for a while now—at least, the shopping and schmaltzy-Christmas-music-playing part of it. The "real" part is almost upon us, too. Advent, the season of spiritual preparation for the arrival of Jesus, begins this coming Sunday, November 29, 2015.
Then there's the gift-giving season of Lent.
Wait a minute! Lent? Gifts?? In November?!
Well, sort of.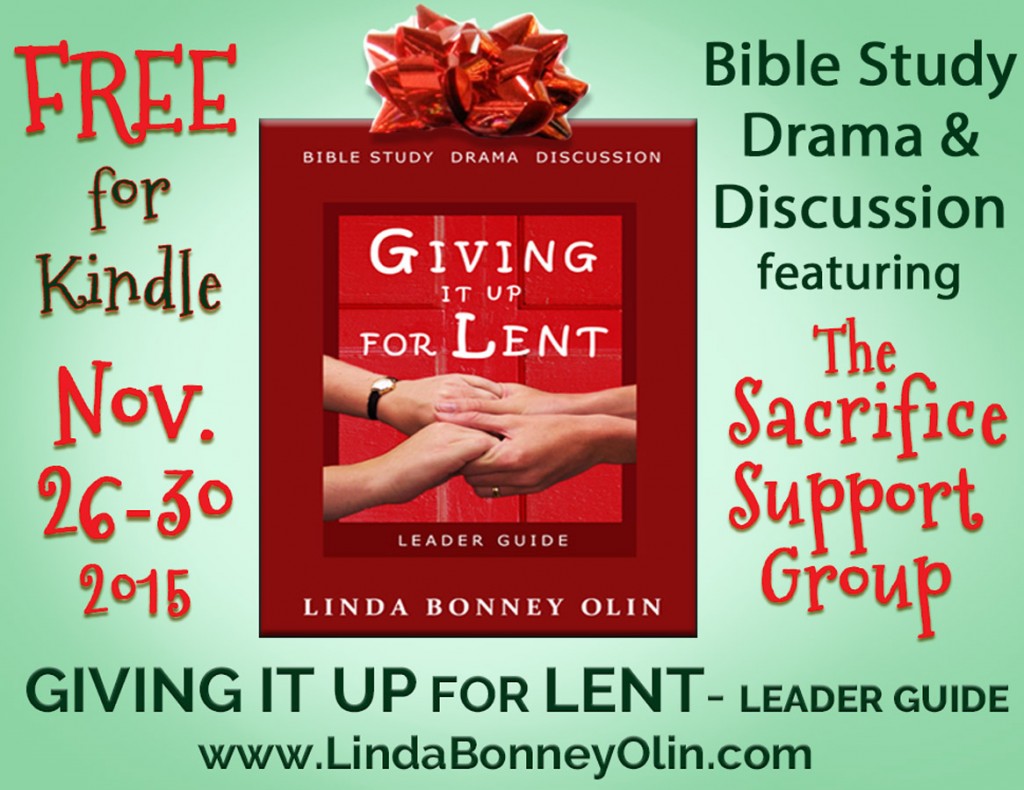 My latest holiday gift-giving binge starts Thanksgiving Day and runs through Monday, November 30, 2015. The featured giveaway is the Kindle edition of Giving It Up for Lent~Leader Guide: Bible Study, Drama, Discussion. Grab a book for yourself and gift one to your pastor or small group leader, while the price is as right as it's ever going to get. It's available on Amazon.com.
Before I get busy peeling a pile of potatoes for Thanksgiving dinner, let me also thank all the folks who downloaded free copies of my single-script Transformed Resurrection Drama ebooks during the giveaway that just ended. Stay tuned, because I'm still in a gift-giving mood! At least one more book is already scheduled to be offered free in early December. Check back soon for details.
Speaking of thanks … You may have seen my plan to send thank-you books to the folks who took the time to post reviews of my books during the holiday season. Sad to say, I had to cancel that idea. Word is out that Amazon is penalizing authors who "compensate" reviewers in any form, even for an honest, voluntary review. Sorry! As far as I know, though, verbal expressions of appreciation haven't been outlawed yet, so THANK YOU, reviewers!
Blessings of the season (all of them!) to you and yours.
Linda