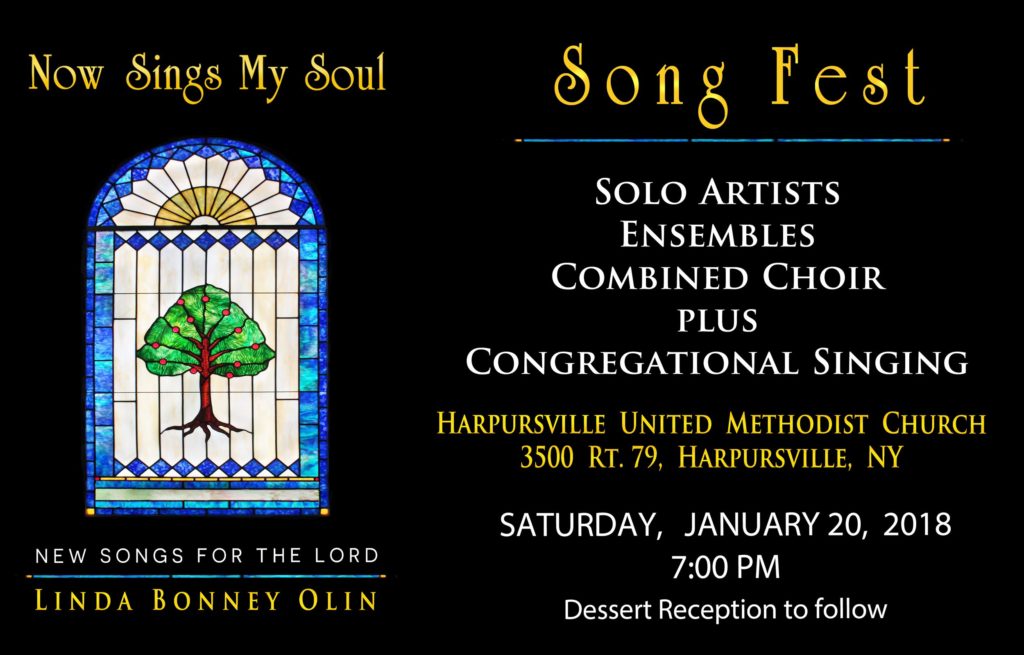 Forget the bottle of champagne. We're going to launch Now Sings My Soul: New Songs for the Lord with a musical celebration!
January 20, 2018 at 7:00 PM
Soloists Theresa Olin (aka Diva Daughter), Tony Villecco, Greg Jenkins, Kristy Garlitz, Tom Blake, and Sherry Ticknor, plus a choir representing multi-denominational congregations, will grace the Harpursville United Methodist Church's lovely sanctuary with songs from the book. The audience will be invited to sing, too, with new words set to beloved hymn melodies like "Sweet Hour of Prayer," "Trust and Obey," "My Hope Is Built," and "To God Be the Glory."
This event truly embodies the last verse of the book's theme song, "Now Sings My Soul a New Song":
 My soul, O Lord, is deeply moved to share
good news of all your grace has done,
to join my voice with people everywhere,
the many praising you as one.
Now sings my soul a new song,
an invitation to congregation.
Now sings my soul a new song,
yes, a new song for the Lord!
Admission is free, and a dessert reception will follow the program. Books will be available for purchase and I'll be available to sign them. All proceeds from book sales and free will donations will benefit the ministries of the church.
Harpursville UMC is the historic stone church next to the fire station, 3500 Route 79, Harpursville, New York 13787.