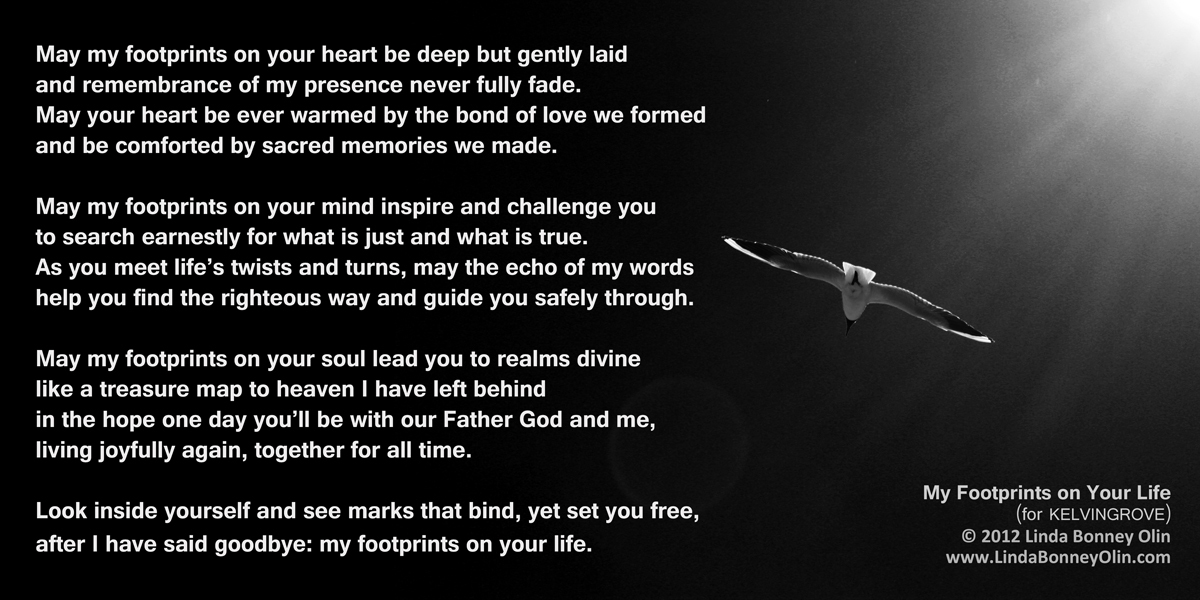 This week marked the first anniversary of my dad's reunion with his wife, elder daughter, and other cherished family in heaven. My friend Carol lost her mother this week too. So I decided to give photographer Edgaras Melsiskis's lovely seagull another flight, this time carrying the updated words to "My Footprints on Your Life."
Just as footprints on a sandy beach are constantly wiped away by the tide and replaced by fresh imprints, song lyrics can be renewed with new musical settings. "My Footprints on Your Life" was first published with an original melody in Songs for the Lord. I've recently adapted it for the tune DIVINE MYSTERIES and my personal favorite, KELVINGROVE. You can hear both settings on the Audio page, but here's a handy link to listen to KELVINGROVE while you read the lyrics. (My audio is melody-only, because John Bell's lovely harmonization is copyrighted.)
My Footprints on Your Life

May my footprints on your heart be deep but gently laid
and remembrance of my presence never fully fade.
May your heart be ever warmed
by the bond of love we formed
and be comforted by sacred memories we made.

May my footprints on your mind inspire and challenge you
to search earnestly for what is just and what is true.
As you meet life's twists and turns,
may the echo of my words
help you find the righteous way and guide you safely through.

May my footprints on your soul lead you to realms divine
like a treasure map to heaven I have left behind
in the hope one day you'll be
with our Father God and me,
living joyfully again, together for all time.

Look inside yourself and see
marks that bind, yet set you free,
after I have said goodbye: my footprints on your life.
The footprints left behind by our loved ones aren't washed away by the next big wave. If we're fortunate, their marks, along with those of the Lord Jesus, will comfort us, inspire us, and ultimately lead us to our own reunion in the "realms divine."
Blessings to you who mourn,
Linda