Jesus left that part of the country and returned with his disciples to Nazareth, his hometown. The next Sabbath he began teaching in the synagogue, and many who heard him were amazed. They asked, "Where did he get all this wisdom and the power to perform such miracles?" Then they scoffed, "He's just a carpenter, the son of Mary and the brother of James, Joseph, Judas, and Simon. And his sisters live right here among us." They were deeply offended and refused to believe in him.

Then Jesus told them, "A prophet is honored everywhere except in his own hometown and among his relatives and his own family." And because of their unbelief, he couldn't do any miracles among them except to place his hands on a few sick people and heal them. And he was amazed at their unbelief.

Mark 6:1–6 (NLT)
As I prepared my sermon, songs, and prayers to go along with Mark 6:1–6, James the brother of Jesus struck me as the ideal "poster boy" for that Sunday's topic of belief/unbelief. Not only was James mentioned by name in this scripture passage, but verses scattered throughout the New Testament reveal his transformation from unbelieving brother to ardent believer.
When I fill in for the pastor, I like to bring new music or a bit of drama (the good kind!) to the worship service. Why not a guest appearance by "James"? I'd already written a play in which James tells his faith story on a cutthroat TV talk show. But that was an edgy, half-hour musical comedy. To fit into a worship service, "James the Brother of Jesus, Transformed" needed a major transformation of its own.
Goodbye, comic characters! So long, songs! See ya later, subplot!
Trimming the dialogue to a straightforward, ten-minute interview perfectly suited my "Late to Faith" message.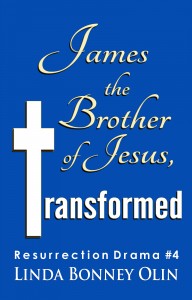 In fact, the interview format is so versatile that I went the extra mile and added this version of the script to my books James the Brother of Jesus, Transformed and Transformed: 5 Resurrection Dramas. The updated editions are now "live" on Amazon.com, Barnes & Noble, and CreateSpace.com (my paperback printer). For information about the Transformed series, click here.
FREE bonus resources!
Let's go an extra two miles! For a limited time, buyers of either book can receive a copy of my Mark 6:16 worship plan and resources:
Bulletin (modified)
Hymn selections for congregational singing
Call to worship, drawn from my song lyrics "Faith Isn't Just a State of Mind" (I'll throw in the sheet music for good measure)
Unison prayer
Scripture readings
Musical meditation for soloist, "Peering into Faith's Foggy Window" (sheet music & mp3 accompaniment file of the tune PICARDY) You can play the mp3 accompaniment file to help you learn the song; or burn it onto a CD if you don't have a live accompanist. Note that the sheet music is in F; the mp3 is in G flat to accommodate a lower vocal range.
Youth message
Sermon
Benediction
To request your free bonus bundle, forward your purchase confirmation email from Amazon or CreateSpace to Linda@LindaBonneyOlin(dot)com, and ask for "Unbelief Resources" in the body of your email.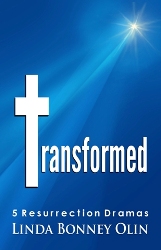 Now, my Holy Ghostwriter and I could use your help getting the word out to churches, small groups, and individuals who might enjoy using the Transformed Bible-based dramas for performance, reading, and/or discussion. Please mention my books to your pastor or worship leader. Better yet, order them a gift copy. Christmas is just around the corner!
And, as always, your prayer supported is greatly appreciated.
Thanks very much!
Linda
P.S. 11/19/2015 All five of the single script ebooks in the Transformed series, including James the Brother of Jesus, Transformed, will be on KDP FREE DAYS promotion starting Friday, November 20 through Tuesday, November 24. Details and more giveaways on my post Tis the Season for Gift-Giving.