Greetings from Faith Songs!
I almost feel as if I should introduce myself, after my two-month absence from Faith Songs. As many of you know, my parents' health needs take me away from home (and away from my high-speed Internet) for weeks at a time, and that was the case for most of December and part of January. When I got home, my first priority (okay, second—after smooching my husband) was the farm bookkeeping. Besides the usual accounts payable/receivable and payroll, January is prime time for annual business reports, employer reports, tax reports, lender reports, Workers Comp audit reports—you get the idea. Squeezed in writing and submitting a few new hymns and devotions. No time for blogging.
New release: Transformed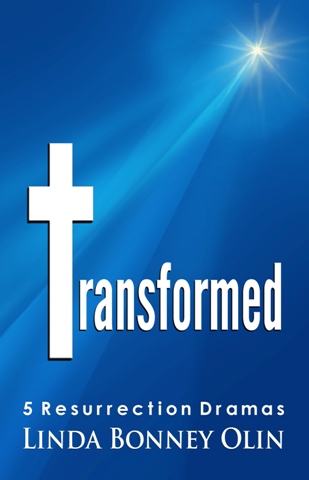 When the bookkeeping finally hit a lull between deadlines, the Holy Spirit shifted me into high gear to get my latest drama book published. I polished the content, cover, and interior design to a high gloss with the help of my wonderful beta readers. The paperback edition of Transformed: 5 Resurrection Dramas rolled onto the cyber-shelves at  Amazon and CreateSpace the last week of January, and the Kindle version went up on Amazon shortly afterwards. Stay tuned for information about a Book Launch Party (exclusive giveaways, discounts, fun trivia, and who knows what-all) on Facebook. Hopefully I can get that scheduled before the book and I both curl up and yellow with age.
But, first!
My Holy Ghostwriter poked me to share some thoughts about the Bible characters in Transformed. I say "characters" because that's what you call people in a play, but these were real people, even though the premises of the dramas are fictional (at least, I'm pretty sure none of the apostles ever appeared on a TV talk show!). In fact, the five lead characters were among Jesus Christ's closest family and friends: his mother, Mary, and his brother James; the apostles Simon Peter and John; and his devoted disciple Mary Magdalene.
The five dramas portray how they were transformed by Jesus' resurrection. But what about the soul-wrenching days that led up to it? What was each of those individuals doing, and thinking, and feeling after Jesus died, before news came that he'd risen from the tomb, alive? We tend to treat Holy Saturday like a blank page between Good Friday and Easter. That page deserves to be examined more closely before we turn it. That will be the focus of an upcoming series of posts here at Faith Songs.
Book Resources for Lent
In the meantime, I invite you to check out Transformed: 5 Resurrection Dramas on Amazon or CreateSpace. It offers drama, comedy, music—and best of all, life-changing truth.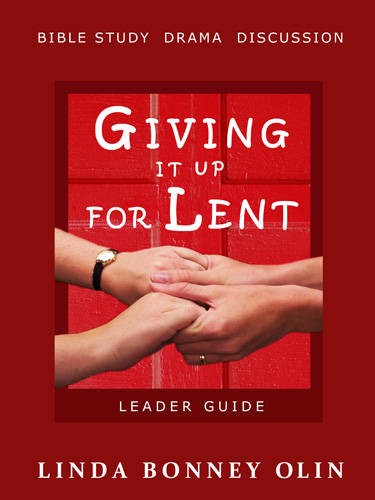 And don't forget my other Lent resources: The Sacrifice Support Group: A Dramatic Comedy for Lent and Giving It Up for Lent: Bible Study, Drama, Discussion. 'Tis the season! Ash Wednesday is March 5, 2014.
Chances are, you're not one of the few people who shop for church play scripts and Bible study materials for a church group. But my tribe (that's you!) can pass the message to the people in your church who do buy them—pastors, worship leaders, drama teams, small group leaders, adult Sunday School teachers. Please do whatever you can to help me get the word to those folks. If you're not a church person yourself, you probably know one or two you can mention it to.
Yes, the post title said "Bargains"
Trumpet fanfare! My Book Launch Party for Transformed will unveil a discount code of 50% on all my Christian drama books and Bible study workbooks. The code will be valid only on paperback editions, only at CreateSpace.com, and only on the Launch Party dates.
That means your group will be able to order a script book for every actor (and director and accompanist, if need be) and a workbook for every study participant, all at half price! This opportunity will be coming (and going) very soon, so figure out how many copies you'll need and get ready to jump on the discount. A study or drama bundle would be a great gift to give your church. Even if it won't be used until later, there's no better time to buy than a half-price introductory sale!
Call me Ham & Cheese—I'm on a roll! Maybe I should do used car commercials next!
A few facts to guide your ordering decisions
The number of speaking parts in the Transformed plays varies from 1 to 4. If the cast members of each play can pass their books to cast members of the next play, you could get by with as few as 4 books (6 if you add a copy for a director and an accompanist for the two musicals). If your budget can stretch to a separate book for each speaking part in all five plays without sharing, order an extra 8 (14 total).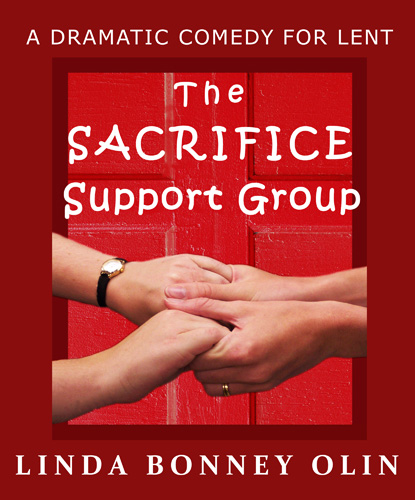 There are 7 characters in The Sacrifice Support Group, so 7 books will do the job for that two-act play; 8 if you feel the need for a separate director.
Only you can say how many participants you'll have for the 5-7 week Giving It Up for Lent study. Figure one workbook per participant, and don't forget to order a Leader Guide for (you guessed it) the study leader.
Hint: The Giving It Up for Lent books all include the script of The Sacrifice Support Group. For the same price, you might want to order GIUFL workbooks instead of TSSG, and be a jump ahead on having what you need to conduct the full study. Up to you.
Sounds like a lot of books?
Drama scripts and Bible study workbooks do add up. That's why I decided to give my thrifty fans a chance to get them at a price just a little above my cost. And remember, unlike some drama script services, my independently published books include permission for your church or nonprofit group to put on noncommercial performances without paying per-performance licensing fees in addition to purchasing the scripts.
Okay, tribe. This drama writer (some might say "drama queen") is done beating the drum for the moment. My next step: arranging the Transformed Book Launch Party. Keep watch for that on Facebook. If you haven't already Liked my Facebook author page, please click the button on my Faith Songs sidebar. If you prefer a bit of personal discussion and humor along with writing-related news, hop over to Facebook and send me a friend request. I'm the only Linda Bonney Olin in town.
Blessings to all,
Linda
P.S. Here are the CreateSpace links for all four paperback books. Fire when ready!
Transformed: 5 Resurrection Dramas
The Sacrifice Support Group: A Dramatic Comedy for Lent
Giving It Up for Lent~Workbook: Bible Study, Drama, Discussion
Giving It Up for Lent~Leader Guide: Bible Study, Drama, Discussion