Frank Di Giovanni, a long-time member of the W. B. Ogden Writers Group in Walton, New York, enthralled an audience at W. B. Ogden Library last night with a dramatic reading from his newly released play, Rivington Street.
The three-act drama follows the conflict between retired businessman Sam Israel and his son, Robert, a pushy lawyer. After the death of his beloved wife, Sam leaves their Florida residence and returns to the old neighborhood in New York City—over Robert's fierce objections. Sam meets up with Dave, the present owner of Sam's former clothing store, and can't help but compare Robert's attitude to the close, respectful relationship Dave enjoys with his adult son, Max. The fat hits the fire when Robert shows up, armed with papers authorizing him to take Sam "home" by force. Yes, Robert is one of those characters you love to hate. Don't worry, though. "Salvation," as Frank calls it, comes by the end of the play.
Missed the event at Ogden Library? Click here to listen to Frank Di Giovanni's reading of Act Two, Scene One of Rivington Street. (The recording runs about 25 minutes. Please forgive the slight gurgle that was left behind when I filtered out a loud ventilation fan.)
Having heard Frank read his work at writers group meetings, I wasn't surprised by the authentic characterizations he dressed his dialogue in. As audience members remarked during the question and answer session that followed the reading, both Frank's writing and his animated reading put us right into the scene. Frank says he's had no acting experience to account for his theatrical flair. He jokingly suggests it came with his Italian heritage.
Frank grew up on the Lower East Side of Manhattan. Various details in the play reveal his personal familiarity with the Koch-era Manhattan neighborhood in which most of Rivington Street takes place. Reminiscences of life with his parents and neighbors on East Second Street in the nineteen thirties and forties also have provided plenty of material for his work in progress, a memoir.
Writing has become a major part of Frank Di Giovanni's life since he retired from a 37-year career with the United States Public Health Service and took up residence in the Walton area with his wife, Rose; but Frank says he always has written on a daily basis.
The idea for Rivington Street originated around 1980, with a conversation Frank overheard while he was commuting on a train. Two men were talking about a "stubborn father" who didn't want to leave New York City. "He wants to stay in this crummy place, and we want him to live down in Florida," one said. Frank developed that premise as a stage play rather than a short story or novella without giving the choice any thought. He enjoyed reading plays, and the play format fit naturally with the dialogue-driven story.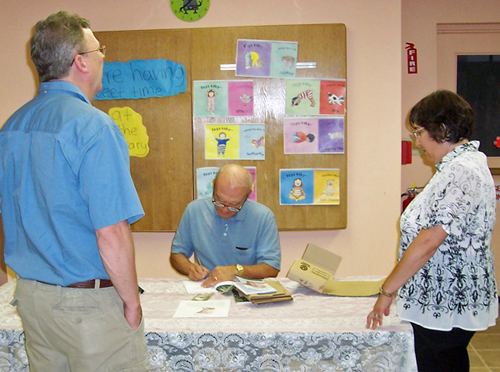 I'm delighted to say that I had a part in Rivington Street finally becoming available to the public. Frank Di Giovanni wrote the play three decades ago. All of the parties he submitted it to at the time "cordially rejected" it, he says; so the manuscript languished in a drawer — until this year. At the June meeting of the Walton writers group, I showed a paperback of The Sacrifice Support Group, which I had independently published through KDP (Amazon's e-book division) and CreateSpace (Amazon's print on demand division). I pointed out what a great opportunity those free Internet tools offered to writers who had no expectation of pursuing traditional publishing contracts but would like to publish their work on a small scale with little or no cash outlay.
Frank jumped at the idea, and I agreed to walk him through the process. After a flurry of collaboration by e-mail, the Kindle version of Rivington Street went live on Amazon on July 8. The paperback edition joined it on July 31, barely a month and a half after the project was conceived.
How exciting to watch Frank Di Giovanni, author, reading from his beautiful book before an appreciative public audience who snapped up every copy Frank had brought along!
Congratulations, Frank!