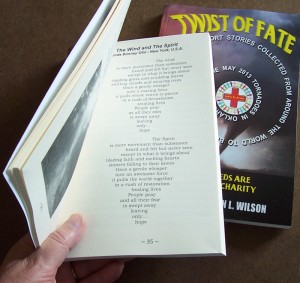 Today's mail brought my paperback copies of Twist of Fate, a charity anthology produced by Indies in Action. If you have sharp eyes, you can sneak a peek at "The Wind and The Spirit" in the photo. I wrote this faith poem specifically for Twist of Fate, which was edited by Stephen L. Wilson and published by Navigator Books. All contributions were donated by the participants, and all proceeds will benefit the May Tornadoes Relief Fund, managed by the United Way. (Yes, that's why I used tornado imagery in the theme and visual layout of "The Wind and The Spirit.")
Indies in Action is a group of independent writers and artists who banded together to tangibly express our compassion for victims of tragedies. Our first anthology project, Angels Cried, benefits the survivors of the Sandy Hook tragedy.
Twist of Fate was released early in July, and quickly shot to the Number One spot on Amazon's Hot New Releases list. Its success is well deserved. The Indies aren't just caring people, they're also good writers! I particularly liked W. F. Lantry's poem "Storm," Dave Fessenden's poem "Holy Vine," and Lori Dillon's short story "Ruby Slippers."
Even though Connecticut and Oklahoma are American locales, Indies from around the world pitched in on both anthologies. Dr. Kiriti Sengupta of India, for example, not only donated two pieces of writing to Twist of Fate but also delved further with interviews of several contributors. Check out his interview "Linda Bonney Olin, a God-Centered Writer from the U.S." and jump from there to other fascinating entries on Kiriti's blog.
Of course, Indies in Action can't succeed in our charitable quest without folks who contribute by purchasing copies of the anthologies! To get in on that action, click on the links below. Don't forget to leave a comment here and a review on Amazon. Thanks!
~ Linda
Twist of Fate paperback
Twist of Fate ebook
Angels Cried paperback
Angels Cried ebook