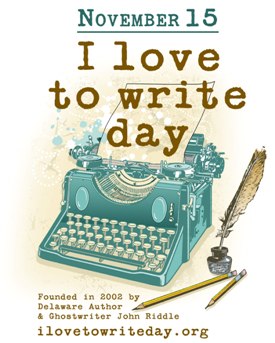 Ten years ago, Delaware author John Riddle had the bright idea to hold the world's largest party for writers. That idea quickly evolved into an annual day dedicated to encouraging everyone to write. Thousands of schools and libraries—even the governors of nine states—have joined the celebration.
John says: "My goal for I Love To Write Day is simple: people of all ages are encouraged to write something. A poem, a letter, an essay, start a novel, finish a novel…the possibilities are endless!"
Edward Bulwer-Lytton famously said, "The pen is mightier than the sword."
I would add my own soon-to-be famous saying: "The sword has no power at all unless you pull it out and use it. Same goes for your pen!"
So pull out your pen, pencil, keyboard, or (my personal favorite) Dragon headphone, and write something!
If you're mumbling to yourself, "But my writing stinks," take a look at the Bulwer-Lytton Fiction Contest. You're a natural! All it takes is one gloriously stinky sentence and you could become as famous as old Ed himself, more or less. 🙂
For starters, write a comment to this post, sharing your writing plans and accomplishments for this special day. Or a sneak peek at your Bulwer-Lytton entry.
Hey, I just did my bit, by writing this little article. Now, because I love my writing buddies as much as I love writing, I'm going to get back to work on the new website I'm building for my local writers group. (Coming soon… AWEsome Writers!)
For more information about I Love to Write Day, visit the official website.