In 2016, Harpursville United Methodist Church and Nineveh Presbyterian Church hosted my new Lenten devotional series based on the old spiritual "Were You There When They Crucified My Lord." Each weekly session explored the experiences of people who were present when Jesus Christ was arrested and executed, plus a few who were conspicuously absent. Those scriptures, songs, and meditations touched hearts. So I resolved to bring the series to a wider audience in book form.
It's finally here!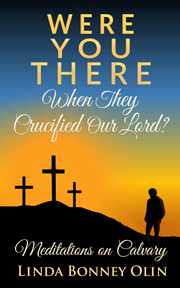 Were You There When They Crucified Our Lord? Meditations on Calvary is now live on Amazon, in both Kindle and paperback editions. Companion resources for readers, presenters, and musicians are ready for free download here on Faith Songs, too.
Book details
Music resources
Study resources
Launch Party!
You're invited to join my jig of joy, at an online party on Facebook, Saturday, August 19, 2017, 3:00–9:00 PM (unless I'm too busy gabbing to watch the clock) Eastern Time.
Because it's an online event, you can "attend" anywhere in the world, rain or shine. Feel free to wear your jammies if it's past your bedtime—no one will notice. 😀
Wondering what kind of festivities might happen at an online book launch party?
Chat with me and the other revelers via posts, comments, and replies on the Facebook event page
Fun games and quizzes
Ask the Author—You get to ask me questions about the book content, the cover and interior designs, the songs, the indie publishing process, my other projects, my plans for world domination . . .  whatever you're curious about.
Exclusive goodies, including audio chapters narrated by the author
All the cyber-snacks you can eat. Zero calories!
And, of course, a little shameless book promotion, such as excerpts from the book, music clips, and quotes from Amazon reviews (5 stars—woohoo!).
Speaking of shameless book promotion . . .
August 16–22 Launch Week Book Discounts!
⇒ Launch Week Paperback Special
Save 50% (yep, half-price!) on the print edition of Were You There When They Crucified Our Lord?Meditations on Calvary, with discount code 2AMYN3SP.
This deal is offered only on books ordered direct from CreateSpace (my printer), not from Amazon. (Eliminating Amazon's commission and most of the author royalty makes the 50% discount possible.)
Plan ahead and order now during Launch Week, to save $$ on multiple copies for your study group.
⇒ Launch Week Kindle Special
99¢ (£.99 UK) buys a Kindle edition of these Lent/Easter books on Amazon:
No Kindle? No problem! Amazon provides free apps (=software) to read Kindle ebooks on most any digital reading device.
As you can see from my extravagant use of exclamation points, I am excited! Were You There When They Crucified Our Lord? Meditations on Calvary will draw readers and listeners closer to our Lord. What could be more exciting?
See you at the party! Just click to enter the Facebook event page on Saturday, August 19, 3:00–9:00 PM Eastern Time. Feel free to go there ahead of time to check for advance posts and invite friends you think would be interested. The more, the merrier!
Blessings,
Linda